CHRISTIAN COUNTY AND KY DIVISION OF WASTE MANAGEMENT ARE HOSTING A WASTE TIRE COLLECTION EVENT.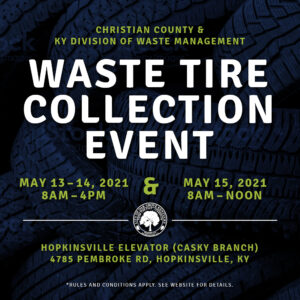 Dates & Times: May 13th & 14th 8am-4pm & May 15 8am-12pm.
Location:
4785 Pembroke Road
Hopkinsville, KY
(Hopkinsville Elevator – Casky Branch)
Tires Not Accepted:
Foam filled tires
Calcium filled tires
Off-road construction tires (OTR)
Tracks (Sheet rubber, solid)
Solid tires with/without press on rims
Any tire with a bead greater than 1 3/4 inches
*Tires will be accepted on or off the rim (Truck, Light Truck, Passenger, Implement, Lawn Tractor, Bicycle, Motorcycle, Golf Cart, etc.)
Tire retailers, Scrap/salvage yards and Recycle businesses are expressly prohibited from participating.
Christian County, in partnership with the KY Division of Waste Management is sponsoring this event. Please take advantage of this opportunity to properly dispose of any unwanted tires. Any Kentucky resident is eligible to participate in this program, with the exception of tire retailers, scrap/salvage yards or recycle facilities.
For more information, please contact: Jim Fleming, Solid Waste Coordinator (270)889-4850, Brad Hewell, Christian Co. Jail (270)889-1799, or Amy Frogue, Pennyrile ADD (270)886-9484.