WITH CHRISTIAN COUNTY SCHOOLS BACK IN SESSION, IT'S IMPORTANT TO REVIEW THE ROAD RULES WHEN IT COMES TO SCHOOL BUS SAFETY. OAK GROVE HAS ALL THE INFORMATION YOU NEED TO KNOW TO KEEP OUR KIDS SAFE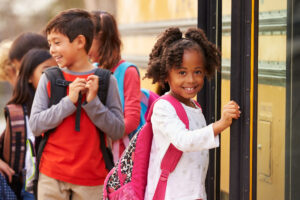 In Kentucky, drivers must stop behind a school bus with its stop arm out and red lights flashing. This goes for anyone driving in any lane and any direction on a road consisting of two or three lanes, including the turning lane. The only exception to this is if you're driving on a highway or road with a median or physical barrier or has more than four lanes, you do not have to stop for a school bus if you're driving in the opposite direction. If the school bus is on your side of the road, then again, drivers must stop. However, drivers should not assume that students won't cross these busier roads and should still be alert if they see a school bus stopped on the opposite side.
Drivers who are caught passing a stopped school bus can either lose their license, get sentenced to a year in jail along with a hefty fine, or up to six years in prison if someone is injured or killed while not stopping for a school bus.
In Kentucky, not only is it important to remind drivers of how to keep kids safe, but they also take driver training, bus maintenance, and training for students just as seriously. Parents should wait for their children to safely get on the bus and wait for them after school. Remind your children to look both ways if they're crossing the street after getting off the bus, regardless of whether or not the stop arm is out and the red lights are flashing as distracted or impatient drivers may not see them or the bus to slow down and stop in time.
Oak Grove wants all of our residents to stay safe this school year. If you have any additional questions or concerns, please contact the City of Oak Grove. We are more than happy to help in any way we can.